Tailored Bedhead Units
Author: Lip Medical
Date: 03 10 2018
Efficient and well thought out Bedhead supply units are imperative to the daily running of a successful medical environment. Bedhead units are not only crucial in providing the standard electrical supply, nurse call buttons, medical gas and data points, but also specialised functions and features for specialist wards and medical areas.
Traditional Bedhead units are cold, clinical and cumbersome, although these types of Bedhead units are a necessity. As we move into an era of more personalised healthcare, these Bedhead units and trunking simply aren't always enough.
With studies looking into home-orientated hospitalisation, dating back as far as 1961 (Shepperd & Iliffe) found that those recovering at home from elective surgery expressed greater satisfaction than those who remained in hospital. With this in mind, home-orientated hospitalisation isn't feasible for all patients, especially those requiring specialist care. Therefore creating a more comfortable, home mimicking environment can assist greatly in the recovery of hospitalised patients. This is where bespoke furniture can play a crucial part – particularly bedhead supply units.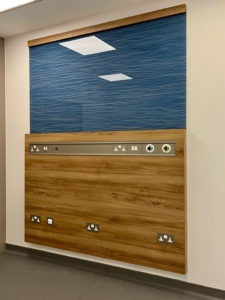 Bespoke designed, manufactured and installed Bedhead units ensure each medical department is fitted with the exact requirements to run, diagnose and treat patients effectively – all whilst creating a homely, relaxed and stress-free environment. As well as the standard features, our bespoke bedhead units can be fully adapted to suit the medical needs of each department including oncology, paediatric, maternity, high dependency, hospices and private medical suites.
There are certain aspects that cannot be controlled, this can include the size of rooms, and this is why we offer both vertical and horizontal trunking that can be arranged into flush-mountable modular units. These units can include room lighting systems, a reading light and a night-light to provide patients with the optimum visual comfort – whatever time of the day. Each trunking unit can also be adapted for facilities with low level medical care, such as nursing homes, residential care homes and assisted care homes and dialysis centres.
We understand each department not only has unique medical requirements, but also different décor styles, which all help in the comfort and recuperation of their patients. Lip Medical are experts in working with you to achieve a finish that is aesthetically pleasing, but never compromises on purpose. Providing bespoke bedhead units and equipment to allow medical teams and doctors to provide first class treatment, assessment and diagnosis.
Lip Medical can help you create a more patient friendly environment. With our wealth of healthcare design and experience we can assist with small refurbishments to major new hospital builds. Contact us today for more information on bespoke Bedhead supply units.