Illuminated LED Art Panels
Author: Lip Medical
Date: 03 09 2018
We have frequently highlighted how the healthcare environment can heavily affect the recovery and wellbeing of patients. Creating a space that is relaxing, yet continues to serve its purpose is something LiP Medical pride ourselves on.
Illuminated LED Art Panels, have the power to create wonderful lighting and a calm ambiance through backlit LED technology and bespoke panel art images. These panels can be used in endless ways – operating theatres, waiting rooms, MRI scanner rooms, paediatric wards and many more.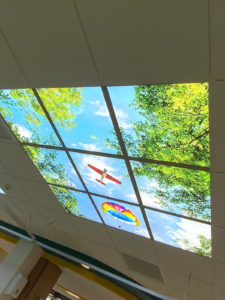 Research, by Dr. Pati, shows how "Luminous SkyCeilings" have a positive impact on acute stress and anxiety. An 8-month study analysed data of 181 patients in identical rooms with only one environmental difference between the controls and experimental patients, a 24 sq. ft. Luminous SkyCeiling above the bed. Patients in the experimental rooms, with the SkyCeilings, found a reduction in acute stress of over half (53.40%) and an anxiety reduction of 34.79%.
When choosing an image the possibilities are as endless as your imagination, however Biophilic Design uses the notion that our innate attraction to nature and natural images has numerous benefits to our health and wellbeing. The term Biophilic Design was popularised by American psychologist Edward O'Wilson in the 1980s. As our lives have had an increased dependency on technology, this has in turn led to attenuation in human drive to interact with nature. Therefore, by incorporating Biophilic Design we are increasing our inherent need for exposure to nature. Images of the sky, woodland and coral have been proven to provide a more relaxing frame of mind in typically stressful environments.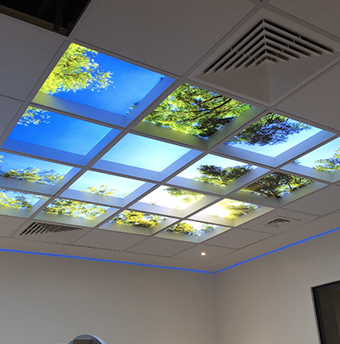 By using backlit LED technology enhances the comfort of patients – LED provides a more ambient and relaxed lighting solution. It also generates a more comfortable working environment for staff and a warm and inviting space for reception areas, examination and waiting rooms. Backlit LED provide a better contrast and are also less expensive to make and run, reducing energy consumption by 50%. LED lighting also comply with energy legislation and supports Government sustainability targets.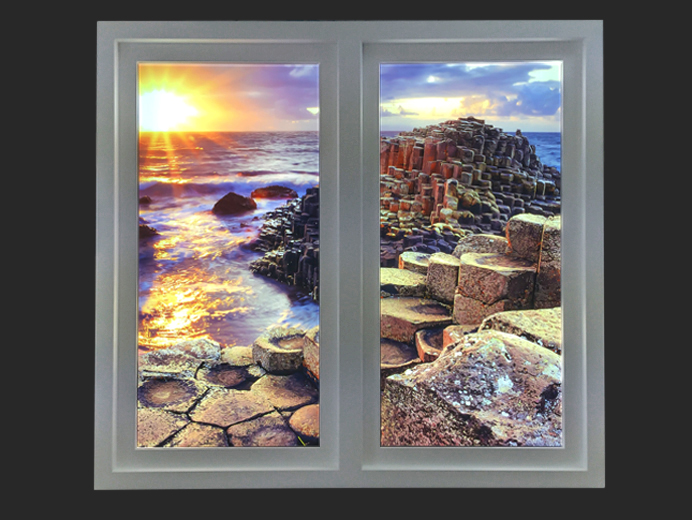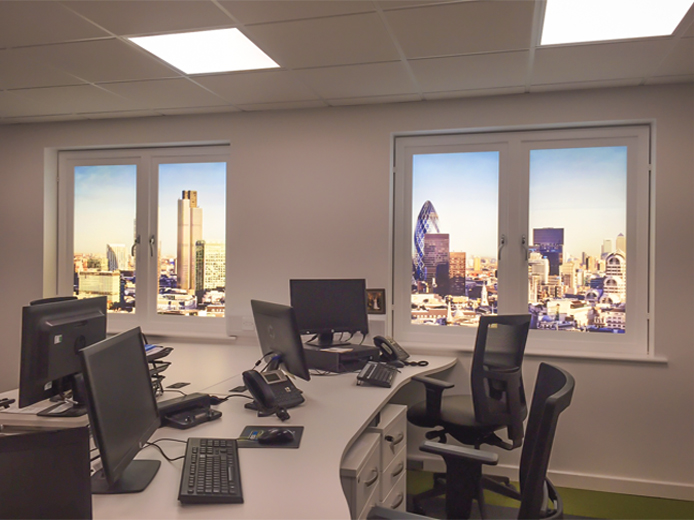 Art Panels supplied by LiP Medical are fitted to suit any room and building type – they are the perfect solution for internal rooms where natural light isn't a possibility. The added option for manual light adjustment can be installed, simply dim the light as the day moves into the evening to help keep in sync with the natural light outside. Panels can be fitted into walls and ceilings with ease – we can install raised section with a ceiling raiser kit or where ceiling panels aren't available, our 3D frames can be installed to give the a art a completely unique aspect. Alternatively, a flush finish can be achieved to help maximise space.
As healthcare moves to adopting less clinical environments and more patient friendly spaces, Illuminated LED Art Panels are vital in creating spaces that help to increase recovery time, reduce stress and anxiety while putting patients at ease. Call LiP Medical today to see how we can help you create a more patient friendly space.