A Great Year for the HUGO LED Examination Light
Author: Lip Medical
Date: 17 02 2017
A year after LiP Medical launched the new HUGO LED Examination light. We can safely say it has been a great addition to our range of products.
The HUGO has had a 100% success rate when demonstrated or submitted for approval.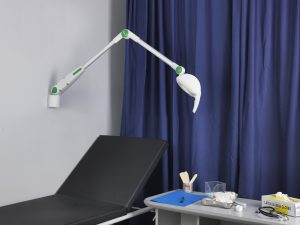 The reason behind this is that the HUGO ticks so many boxes with what a user is looking for, as well as the 50,000 lux vivid light pool @ 500mm. The range of movement and the reach of the wall mounted version which is 1200mm means that the HUGO allows full coverage of a couch in a consulting room or examination room there really is no need for the installation of medical rail. Coupled with that the unit does not require any manual adjustment for positioning so makes it so easy to handle for the clinicians.
The HUGO is fully sealed so a tick in the box for infection control and with the cable able to feed directly through the stem into the wall without any cable hang or even a cable on show it really does its part for health and safety.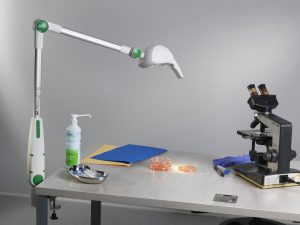 The HUGO LED examination light can be mounted in the following ways:
• Wall mounted
• Rail mounted
• Ceiling mounted
• Pole mounted
• Desk mounted
• Mobile
For more information on the HUGO LED Examination Lights please visit our products section on this website or give us a call we would be very happy to speak with you.