The Benefits of Bespoke Medical Furniture
Author: Lip Medical
Date: 07 03 2018
Although we're moving into a new era of personalised healthcare, many of our clinical environments are still deeply embedded in the 'one size fits all' approach.
Not only do wards, clinics, theatres, and lounges fail to recognise the individuality of every patient, they often fly in the face of the NHS's idea that "our health is determined by our inherent differences combined with our lifestyles and environment".
We've known for a long time that health is not merely the absence of disease or infirmity, but rather a state of complete physical, mental, and social well-being. However, very little attention has been paid to the fact that, as the NHS insinuate, health is heavily impacted by the environment in which we live and recover.
For this reason, interior design is one of the most important factors in designing a modern clinical setting. So much so that the Department of Health now has specific guidelines regarding the role of the environment in patient care that must be met in the design of new hospitals.
To find out exactly why the environment is so important, we're going to look at some of the main benefits of using bespoke medical furniture and discover why it's so popular in modern healthcare facilities.
Faster patient recovery
As proven in hundreds of studies, the clinical environment has a significant effect on patient recovery. Everything from space, lighting, noise, and smells can influence the recovery process. And as factors that are external and controllable, medical professionals can choose whether the influence they have is a positive or negative one.
For instance, by designing an interior that makes the best use of available space and puts the patient in control, you impact the wellbeing and mood of the individual as well as their ability to make positive choices. By using quality materials and integrated systems, you reduce noise levels, improving sleep patterns of patients and support the healthy development of babies. And by creating a less clinical environment with warmer tones and more natural light, you can even shorten stays by nearly 15 percent.
Higher staff productivity
We know higher levels of happiness are associated with higher levels of productivity in the workplace. However, due to long working hours and the mental stress of the job, this ideal is often hard to achieve in clinical settings.
Although often overlooked, one of the most significant influences on staff satisfaction is the environment in which they work. And so by ensuring spaces are orderly and functional, the right equipment is always on hand, and any unnecessary stress is minimised, you can work wonders not just for the staff, but for patients, families, and the overall efficiency of the clinic.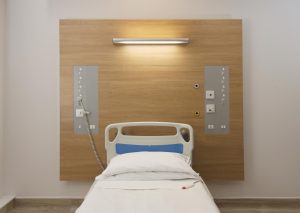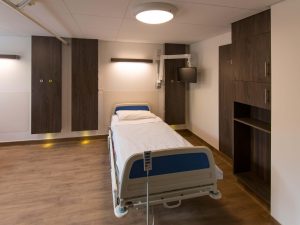 Flexibility and customisation
The core purpose of any clinical environment is to support the essential needs of the patient. But as every patient has different requirements, this can be difficult if not impossible to do when all you have to work with is conventional, standardised furniture and fixtures.
Bespoke clinical furniture brings an element of customisation into the mix so you can create spaces highly tailored to serve specific needs, while still meeting every regulatory requirement. In terms of aesthetics, bespoke furniture opens up the option to choose from a wide range of colours and finishes, ensuring the outcome fits with the interior design of the room while delivering the essential care required.
Lip Medical can help you create a more patient friendly environment. With our wealth of healthcare design and experience we can assist with small refurbishments to major new hospital builds.